Below is a picture I took of Dr. Carl Rasmussen as he led us down
the side of Mt. Arbel and past the caves of Arbel where
King Herod the Great had rebels pulled to their deaths.
I didn't want to climb down but I figured if Dr. Carl was going I would follow.
I am glad I did. In fact, we followed Carl through all of Israel.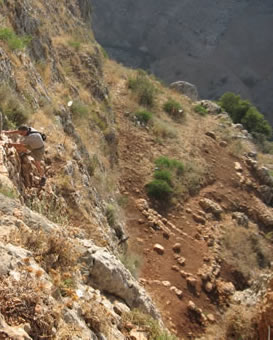 click above photo for close up of Dr. Carl in action.
Dr. Carl Rasmussen is a professor at Bethel Seminary and Jerusalem University College on Mt. Zion in Jerusalem.
For the best photos and information visit Dr. Carl Rasmussen's site at:holylandphotos.org
To purchase Carl Rasmussen's award winning Zondervan NIV Atlas of the Bible go to:
http://www.amazon.com/exec/obidos/ASIN/0310251605/holylandphoto-20