Ezekiel prophesied about Israel's return on January 8, 585 BC. On this same date, Ezekiel prophesied about other events yet to take place. He talks about the now infamous Gog and Magog.
Gog is the name of a man who is a leader from the land of Magog. Meshech and Tubal are two locations within Magog. We must then identify where the land of Magog and the locations of Meshech and Tubal would be several thousand years later.
Magog was one of Noah's grandsons, and, after the tower of Babel was built, he settled in an area known as Caucasus. Linguists believe the name "Caucasus" means "Gog's Fort."
Meshech was the son of Japheth. In the writings of Josephus we find out that Meshech settled in Cappadocia. The country of Georgia (formerly part of the Soviet Union) has traditionally traced its ancestry back to Meshech. In addition to Georgia, ancient Cappadocia is also currently occupied by Armenia, Azerbaijan and Kazakhstan.
Tubal was another son of Japheth. Josephus records that Tubal also occupied modern day Georgia. The capitol of Georgia is T'bilisi which some say still preserves the name Tubal as "Tubal-isi" or "land of Tubal."
Gog then is the leader of a future people who will reside in the modern countries of Georgia, Azerbaijan, Armenia, Kazakhstan, and possibly further north.
God gives Ezekiel a message for this coming leader named Gog:
'This is what the Sovereign Lord says: 'I am against you, O Gog, chief prince of Meshech and Tubal.'" - Ezekiel 38:3
Ezekiel tells Gog that the Lord is against him. Gog has rebelled and rejected the Lord's ways. Gog, like the Assyrians and Babylonians before, will be used by God to discipline other nations before facing his ultimate destruction. The Lord says of Gog:
"I will turn you around, put hooks in your jaws and bring you out with your whole army—your horses, your horsemen fully armed, and a great horde with large and small shields, all of them brandishing their swords." - Ezekiel 38:4
Gog's military ("from the North") will be joined by a coalition that includes the five nations referenced in Ezekiel 38:5:
"Persia, Cush, and Put will be with them, all with shields and helmets, also Gomer with all its troops, and Beth Togarmah from the far north with all its troops—the many nations with you." - Ezekiel 38:5
Regarding these nations we know:
Persia is the modern land of Iran.
Cush was one of Ham's sons (the grandson of Noah). He was also the father of Nimrod. Cush settled first in Shinar and then Southern Arabia. His people eventually moved from Southern Arabia across the Red Sea into Ethiopia and Sudan. Whenever the Bible mentions Cush, it is referring to the land of southern Iraq, Kuwait, Yemen, Ethiopia, Eritrea, Sudan, and southern Saudi Arabia.
Put is Ham's third son. Josephus records, "Put also was the founder of Libia." In Isaiah 66:19, the land of Put is described as the land between Tarshish (Spain) and the "land of the Lydians" (the western part of Egypt). Therefore, Put would be the nation just west of Egypt—which is Libya.
Gomer is one of Japheth's seven sons. His brothers include Magog, Tubal, and Meshech. Josephus records that the people of Gomer migrated out of southern Russia around 600 BC. Some went east into Media (Iran), while others went west to Cappadocia (western Turkey). Most settled in Galatia and became the New Testament Galatians. Today, Gomer would be the land of Turkey.
Togarmah was one of Gomer's sons. Modern day Armenians claim to be descendants of Togarmah. Thus, Togarmah would be the land of Armenia.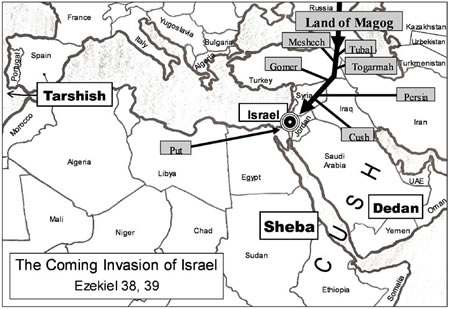 God says to Gog:
"'Get ready; be prepared, you and all the hordes gathered about you, and take command of them." - Ezekiel 38:7
Gog will take command of this coalition in latter days. The coalition will include Georgia, Armenia, Azerbaijan, Kazakhstan, Uzbekistan, Afghanistan, Turkmenistan, Turkey, Iran, Iraq, Kuwait, and Libya. Together they will invade the land of Israel. The Lord tells Gog he will be called to go to war against Israel. The Lord then describes what the social, economic, and political conditions of Israel will be at that time:
"After many days you will be called to arms. In future years you will invade a land that has recovered from war, whose people were gathered from many nations to the mountains of Israel, which had long been desolate. They had been brought out from the nations, and now all of them live in safety." - Ezekiel 38:8
This type of invasion has never occurred in recorded history. It didn't happen before Ezekiel's lifetime, and it has not occurred since Ezekiel prophesied about it in 585 BC. In fact, it was not until after WWII that the land of Israel was reclaimed, and the people were "gathered from many nations to a land that had long been desolate."
The Lord tells Gog and his allies what his mighty military force will look like on the day they are called to invade Israel:
"You and all your troops and the many nations with you will go up, advancing like a storm; you will be like a cloud covering the land." - Ezekiel 38:9
General Gog will lead one of history's largest invasions. His army will enter Israel with the hope of plundering it.

In his book, Basic Theology, Charles Ryrie describes a church in this way:
"It is an assembly of professing believers in Christ who have been baptized and who are organized to carry out God's will."
Ryrie then goes on to break that definition down into
four points:
1. "Those who do not make a profession of faith are excluded. The profession
may not be genuine, but it must be made."
2. "Without debating the mode of baptism, it is clear that the New Testament knows nothing of unbaptized church members."
3. "A church always has some kind of organization, and in the New Testament organization was instituted as soon as possible."
4 . "A church exists for a purpose – to do God's will." The necessary examples would be:
Practicing baptism
and the Lord's Supper
Evangelizing

Teaching the Word of God
Honoring the Lord with worship
Edification of believers
Giving