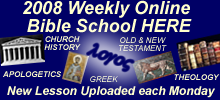 Click This Box to Use Online Bible School
This one year program gives an overview of ten areas of study in the Christian faith. The same classes are being taught at three different locations:
These classes are available online in fifty lessons taught in 2007 or in the 2009-2011 school in 110+ lessons as with .mp3 here or video here.
Listen to Bible School
Online with Real Player HERE
Video on Vimeo HERE
Take the Tests
Go HERE to take the chapter tests

The Classes
There is no cost to attend the classes. Reference books for future study are suggested and sometimes made available. Notes for all the subjects are provided. Below are links that describe in detail the class subjects with a brief description and helpful web site connections for more study and references. Click here for a Sample Class Schedule

Areas of Study - There are ten areas of study covered in the 50 weeks that the school meets in a twelve month period. Each class includes notes, handouts, instruction, class discussion and questions. There is some homework in the area of Greek study.