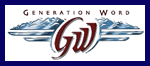 Work of the Ministry
See Details Here
Galyn Wiemers can be heard at the following locations
Weekly Church Services:
Generation Word Church in West Des Moines, Iowa each Sunday at 11:00 AM at Valley High School. (Google Map here)
Weekly Bible Studies and Bible Schools:
Monday night Bible School Class at 7:00 in West Des Moines at the West Des Moines Christian Church. (map here)
Tuesday night Bible study at 7:00 in West Des Moines at Country Club Dental on the intersection of Ashworth and 60th. (map here)
Weekly Radio Program:.
There are over 900 audio messages and over 500 video messages available at www.generationword.com
Galyn Wiemers teaches three times each week at three different locations.
In 2005 Galyn hosted 15-30 minute radio programs on eight different radio stations across the United States.
In 2006 Generation Word distributed about 4,000 CD's a month
CD's have been ordered from several places around the nation and from foreign countries in Europe, Asia, South America, Australia and Africa inclucing Iceland, United Kingdom, Canada, Indonesia, Japan, India, Ghana, Philippines, Kenya, South Africa, Brazil, Serbia, Malawi, Nigerea, Pakistan, El Salvador, United Arab Emirates and more.
Hope for America's Last Generation was released in August of 2007.
Framework for Christian Faith was released in January of 2009.
Political Platform of the Lord and Kingreleased the summer of 2010.
Jerusalem: History, Archaeology and Apologetic Proof of Scripture released in November of 2010.
The Word: Apparatus for Salvation, Renewal and Maturity was released in November of 2011.
Ministry Details:
Generation Word Provides the following at no charge
Free book books
1,000+ downloadable mp3 verse by verse Bible teaching messages
Online Bible School with:

50 online lessons
154 online audio classes
154 online video classes (complete in 2009)
Online .pdf class textbook
61 online chapter tests and online scoring

Hundreds of verse by verse Bible teaching videos
Hundreds of verse by verse Bible teaching audios
Reps and Sets 2x a day Devotional with 15 pieces of information updated twice each day
Notes, Maps
YouTube and Vimeo video of Israel
Online photos of Jerusalem and the land of Israel
Bible Study page with a collection of the best online study tools and resources
Blog
Daily Updates
Also, Generation Word:
our photo appears first on Google for an image search for "bible teacher"
in the past we appeared first on the front page of Google for "bible teaching" search, but now we appear in the top fifteen or so.
averages 125 hits/day, around 4,000 hits/month
is visited by 60-90 different visitors each day
is visited by 25 different countries every 1,000 hits
has been visited by over 80 countries
has sent material at no charge to 40 countries
presents 3 Bible studies per week
Uploads 3 new online messages each week with video, audio and often with notes
has distributed over 100,000 free audio cds of verse by verse Bible teaching
has distributed at no charge 4,000 copies of "Framework," 2,500 copies of "Hope for America's Last Generation," 2,200 copies of "Jerusalem: History, Archaeology and Apologetic Proof of Scripture."
Examples of Countries that visit Generation Word: United Arab Emirates, United Kingdom, Australia, Nigeria, Canada, Italy, Philippines, Germany, Israel, Ukraine, Mauritius, Brunei Darussalam, Jamaica, France, Egypt, Japan, Pakistan, Czech Republic, Colombia, India, Finland, El Salvador, Ghana, Iceland, India, Indonesia, Kenya, Malawi, Holland, Gambia, Tanzania, South Africa.
www.generationword.com/school.html
http://galynwiemers.blogspot.com/